Vote for your favorite film
Tickets for Little Cinema & Galway City of Film 48 Hour Challenge
Tickets for the 48 Hour Challenge are free and are available on our website from Friday 28th July via this link. Spaces are limited and so early booking is recommended. Note: If you are a team member, you do not need to book a ticket.
Applications Filled for 48 Hour Challenge
We currently have 10 teams registered for the 48 Hour Challenge and have three teams on stand by, and so we have paused the application form. Thank you to everyone who applied for the Challenge and apologies to those who could not get a spot. The rules and guidelines can be found here.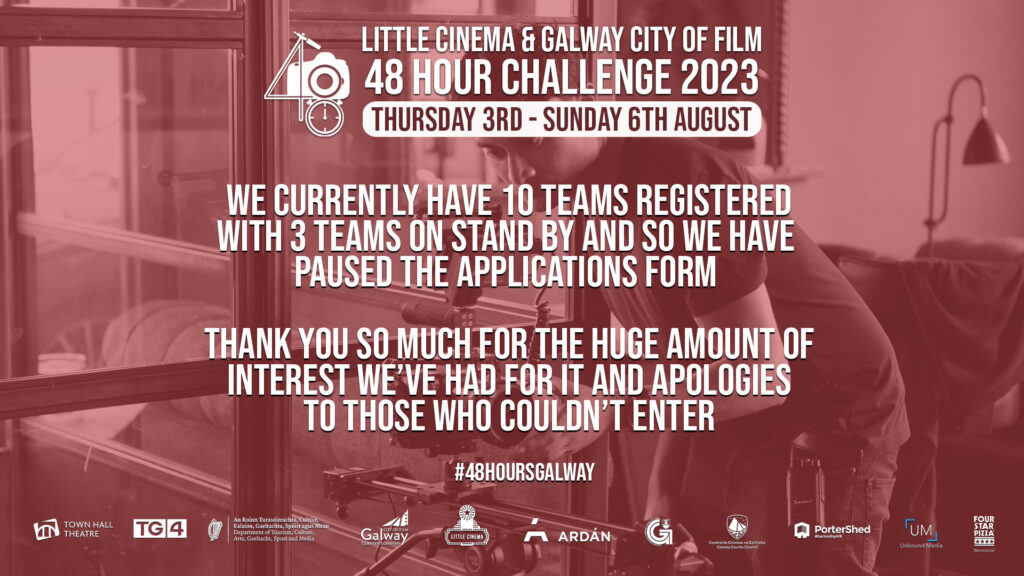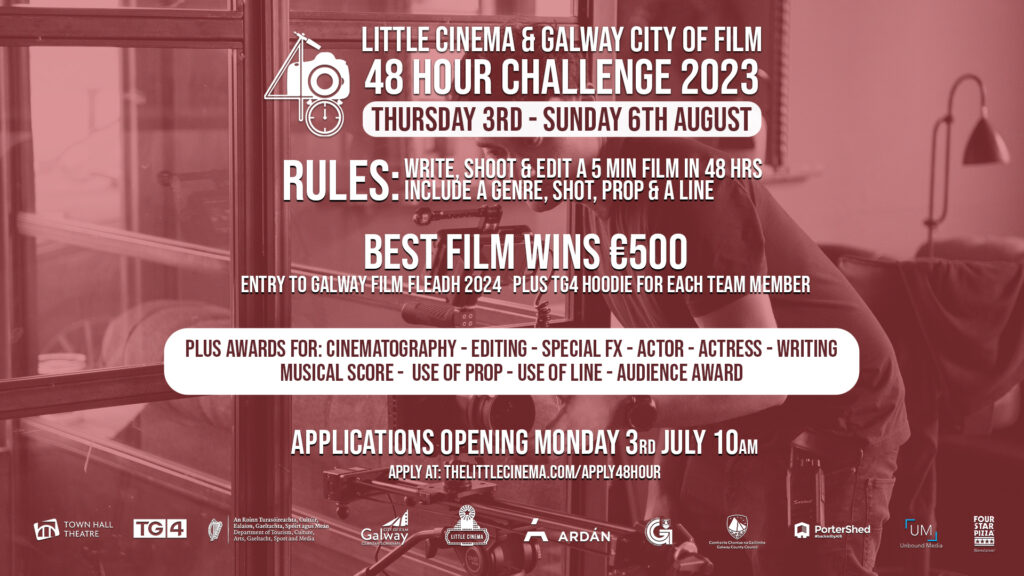 This is the seventh annual 48 Hour Challenge and another chance for filmmaking teams from around the country to come to Galway City & County to test their filmmaking skills to the max! 10 teams will take part in the Challenge, with the task of conceiving, writing, shooting and editing a 5 minute film in just 48 Hours.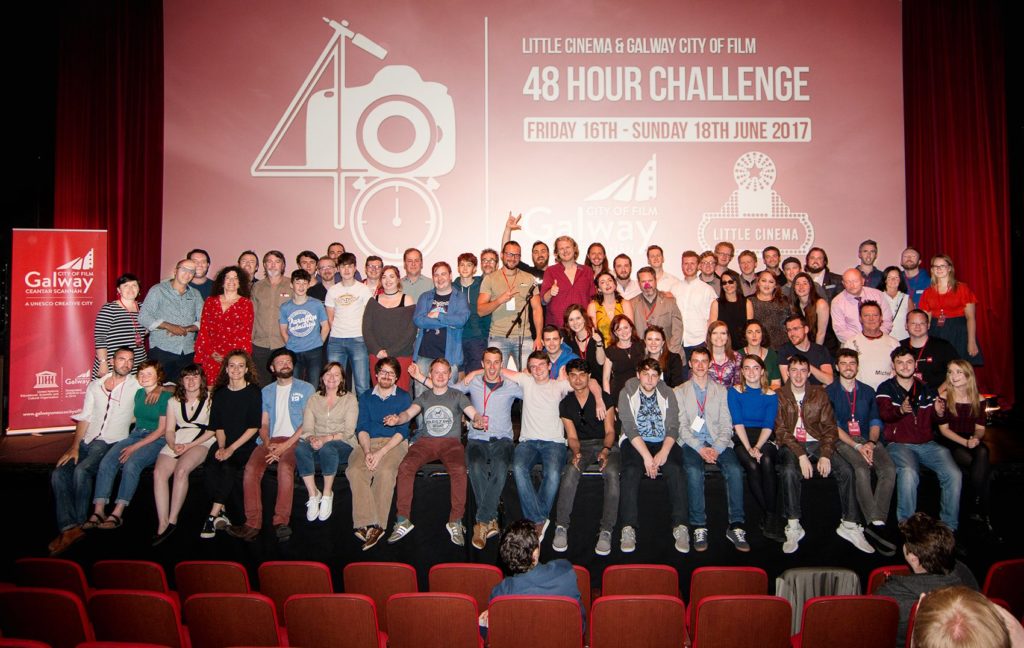 Each team of up to 10 people will have to make the film incorporating an assigned line, prop and genre, with the added rule of also including a specific shot type. A team of industry experts will choose the Best Film which will win the top prize of €500, a place at the Galway Film Fleadh 2023 and a TG4 sponsored hoodie for each team member. The natural incorporation of the prop, line, shot and genre will be heavily weighted by the judges when deciding on prizes. There will also be awards for Best Cinematography, Best Editing, Best Special Effects, Best Actor, Best Actress, Best Writing, Best Use of Line, Best Use of Prop, Best Music Score and an Audience Award.
Networking Event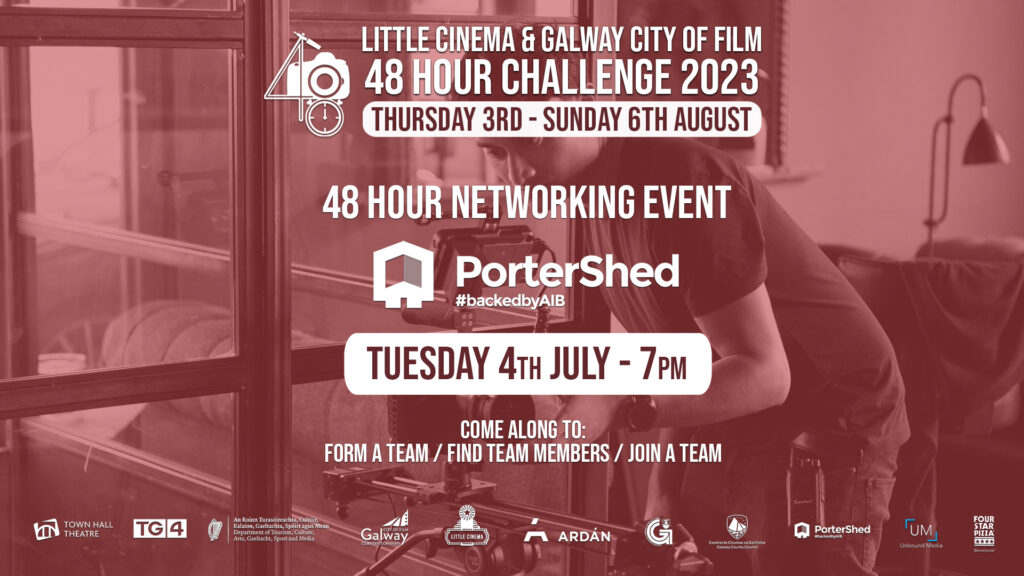 The Little Cinema will host a Networking Event on Tuesday 4th July at 7pm in the Portershed a Dó, to give a chance to people who want to get involved in the Challenge to join a team, and for teams to find extra team members to fill their team. So if you're a writer / director of photography / sound recordist / prop master / performer, it could be a great way to get involved in a team.
Launch
The Challenge will Launch on Thursday 18th August at 7pm in the Portershed a dó, where each team taking part will introduce themselves and find out their line, prop, genre and shot to be incorporated. Our friends at the Portershed will also host the event over the weekend with hot desks provided to those who need editing spaces.
Screening
The screening for the 2023 48 Hour Challenge will take place at the Town Hall Theatre on Sunday 6th August 2023, with a wine reception at 6pm followed by screening and awards at 7pm. Each team member will automatically get a seat for the screening. Tickets will be released closer to the screening date.
Winning Films
The winning films from the previous 48 Hour Challenges can be found here:
2017 The Postcard by Team Hasty Fellows
2018 Connection Interrupted by Team Timo
2019 Loving Alex by Team 48 Hours of Friendship
2020 House of a Thousand Eyes by The People's Republic of Cinema
2021 Whale Fall by Team Hardback Films & Co.
2022 Juniper – Currently scheduled to screen at the Galway Film Fleadh
Questions and queries can be sent to littlecinemagalway@gmail.com
The Little Cinema & Galway City of Film 48 Hour Challenge is an initiative of the Galway City of Film and is funded by the Department of Tourism, Culture, Arts, Gaeltacht, Sport and Media.