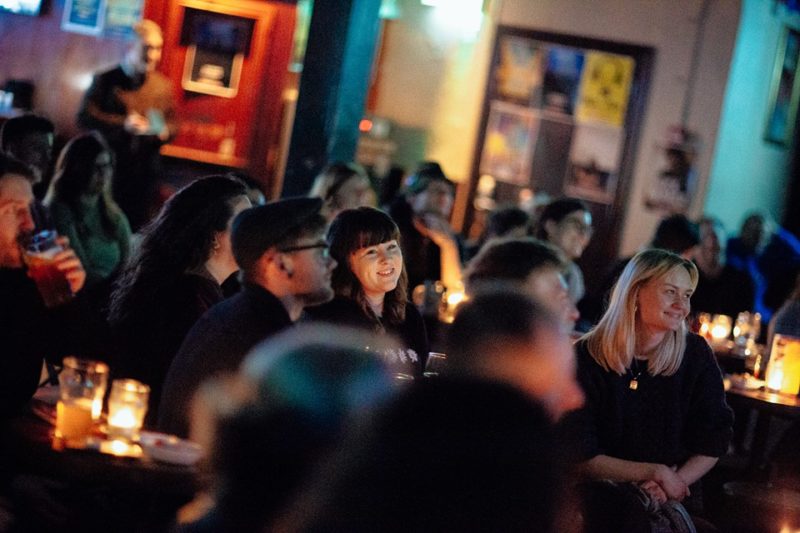 Hello friends! Many special thanks this time to everyone who stuck with us through our cancelled screening in February – the power outing was very unfortunate and unavoidable, so thank you for returning to us last week to check out this great line up of short films. Here's the line up once again – we think you'll agree, it was another great month for short films, from both returning submitters to some brand new faces!
Demo Reel, submitted by Felipe Rosa

An incredible showreel chronicling the work of Felipe Rosa.

Vampire Blues, submitted by Eric O Martin

Modern life is hard when you're a vampire. Directed by GTI student Eric O Martin.

Nurses Vox Pop, submitted by Kenny Gaughan

Vox Pop made by Kenny & Tony Walsh outside UCHG, getting the opinions of the striking nurses representing Irish Nurses and Midwives Organisation – INMO.

Waves

, submitted by 

Emma Zukovič

This short film was created as a response to the prominent stigma in Irish society surrounding mental health issues, particularly in relation to the experience of young men. The work aims to capture feelings and themes of mental illness and shine a light on this growing concern for people to share their inner turmoil. The piece however also offers a sense of hope that there is light following the darkness in the young protagonist's life.

Howdy Partner

, submitted by

John Murphy

A little piece about positive mental health and being friends with yourself.

Fear, by Beau Williams

, submitted by Conor Quinlan

A reading of a poem titled Fear, by Gaway based poet Beau Williams.

Cinema Do Meu Bairro

, submitted by

Renata G. Lima

From a suburb of Rio de Janeiro, the film revives the golden era of street cinema in Brazil. Intimate memories help tell the story of the three Santa Cruz cinemas.

Halcyon

, submitted by

Colin Buckley

A film about an entire relationship in two locations.

 

Expert

, Submitted by

Patrick Szoltajsek

A day in the life of a carpenter. Expert captures Damian from Damian Carpentry in action.
Joinuary, 

Submitted by 

Join

More beautiful madness from Join, with another set of out-there comedy sketches.
Thanks to all those who screened their films, and to everyone who showed up and created a fabulous, friendly audience. We'll be back again at the end of March, so keep an eye on our social media accounts where we'll keep you up to date.
Thanks,
Kenny, Julia & Liam