Little Cinema Halloween 2014 and the links to some of the 11 fantastic themed short films that were screened on the night. A lot of these films were made specifically for the event!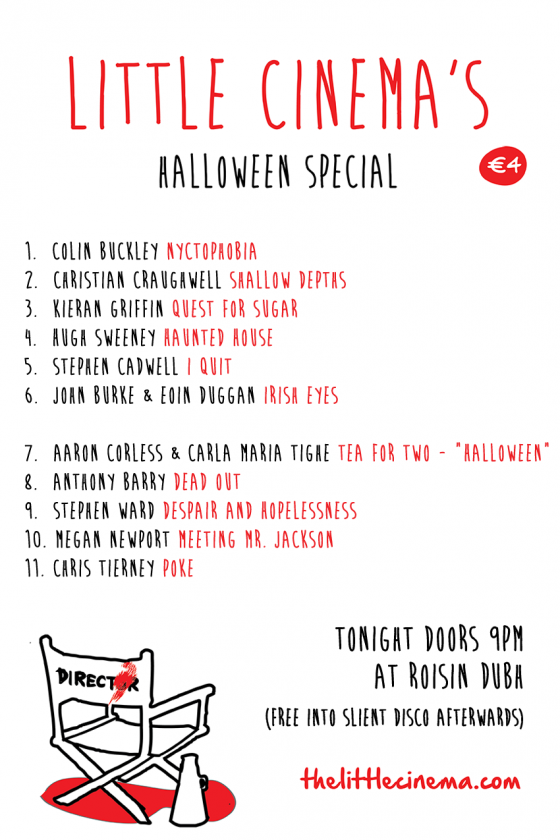 1. First up last night we had the atmospheric Nyctophobia, submitted by Colin Buckley, which played on people's sometimes irrational fear of the dark.
2. Our second film was "Shallow Depths", made by Christian Craughwell, which tells the spooky story of a writers investigations into the unexplained deaths of people at sea decades previously.
3. Our third film was the very funny "Quest For Sugar", submitted by Kieran Griffin which was a sideways take on what potentially happens when you swat a fly!
4. Our fourth film was Hugh Sweeneys recording of his recent exploring or a haunted house in Galway City! Very spooky indeed!
9. Stephen Ward's "Despair and Hopelessness", a very short clip with a proper Blair Witch feel to it, executed perfectly by Stephen.

10. Our penultimate short of the night was Meeting Mr Jackson, submitted by Megan Newport on behalf of GMIT Film Making Society .It was filmed within an afternoon and the guys did a fantastic job on it!
11. We finished the night with the fantastic "Poke" by Chris Tierney from chrisdidthis.com, his first venture into film making with a narrative rather than documentary pieces, and it came out fantastic, getting a great response from the crowd. Excellent work by everyone involved in it!