Hello one and all,
We're back again with our recap of another great month at Little Cinema! We really want to thank everyone who came along last Wednesday. We've said it before, but it can't be stressed enough; great audiences like you are what make Little Cinema special! We're so grateful for your continued support and look forward to seeing you all back again. For anyone who couldn't make it along, or who just wants a repeat viewing, here are the links to the currently available films screened at the last Little Cinema.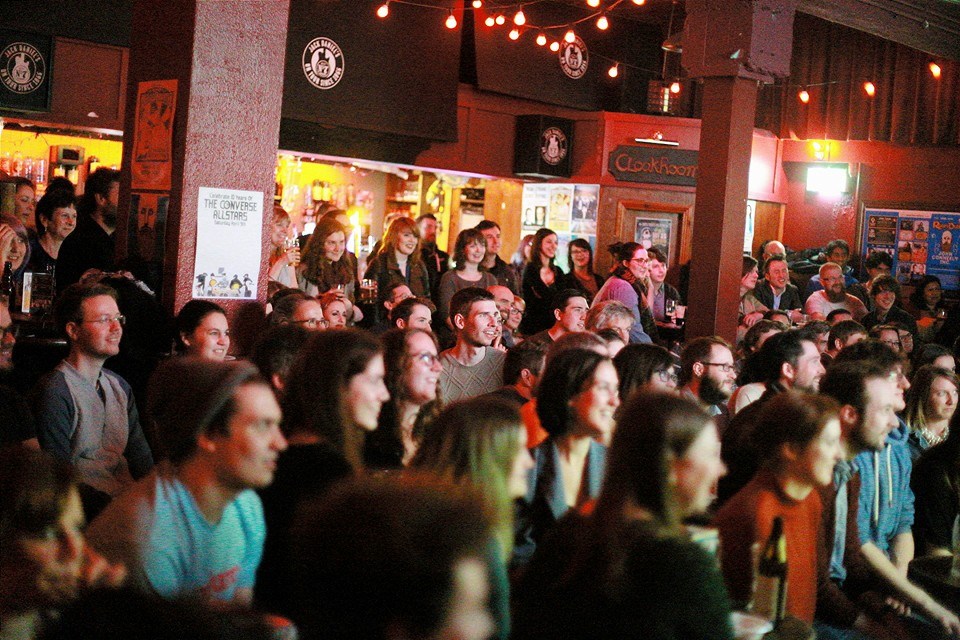 1.

Our first film of the evening is a short made for last years collabortaion with Galway Theatre Festival by the Little Cinema team. Hostage was made in one take, with seven cameras rolling, and a huge cast and crew! It was a hugely challenging shoot, but also a very fun one and we're very proud of the result. We're currently looking for more films in the same vein for this years Galway Theatre Festival, so why not watch Hostage and hopefully it'll help give you some inspiration!

2.

Next up was a music video made by  Maika for Al'Tarba's Just Like Ants. Skilfully edited together from old stock footage in only seven days, this video was a perfect accompaniment for the song.

3.

Our third film of the night was a hilarious sketch from Graham Patterson called How Do You Play Football? If you've ever wanted to become a pro soccer player, then look no further than this tutorial video for all the tips you'll need…

4.

Following Graham was Katie Gardner, with her very first film Bicycle Day, a comedy about a man trying to find the perfect bike! We're looking forward to seeing more from Katie!

5.

Last before the break was the return of Colm Dunne with another great music video, this time for a song called Peggy by local artist Dylan Murphy. This was taken from a series filmed in the Blue Note pub in Galway.

6.

After the break, we had a film from another regular submitter. Woodworm, by Justin Wade, is a film about depression and loneliness. Woodworm is currently not online, and we wish Justin all the best with the film on the festival circuit!

7.

Next up was a music video from Lakshika Serashine for the Until April's song I wanna Be Yours. Anyone who has seen any of Lakshika's work will be familair with his beautiful photography, and this film was no exception!

8.

Next was our very own Kenny Gaughan, with a short comedy sketch about a guy trying to tell a joke. The film got a huge laugh on the night, and has been doing well online since it was uploaded last week.
Click here to watch The Joke .

9.

Our second last film of the night was made by Meghan McKeon-Joyce, called St. Patrick's Day Parade. This observational documentary did a great job at capturing the energy of the day. Its not online yet, but we'll post a link as soon as it goes up!

10.

Our last film of the evening, made by Matt Kavanagh, was a documentary called Whats Your Favourite Irish Film, in which Matt went to the streets of Galway to ask that very question!

And thats it for another month. Huge thanks to all the film submitters for their hard work! Just a reminder that we won't have a screening in April, but will be back on May 5th with a special night of films made in collaboration with Galway Theatre Festival. We're currently looking for films made for that screening, but they have to be made in one take and on the first take! If you'd like to submit, get in contact with us ASAP as spaces are filling rapidly!

Thanks for reading,
Liam, Kenny and Julia.