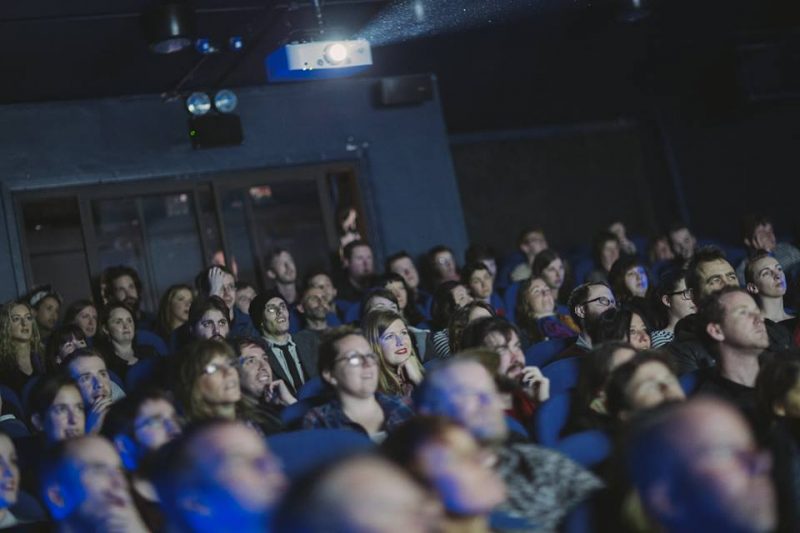 So wraps up another collaboration with the awesome Galway Theatre Festival! Just like last year, we sent a call out for films that were made in one take, and on the first take, to simulate the feeling of stage performance; good preparation is key! If you make a mistake, you have to roll with it! This gives a very different energy to a performance and provides a whole new challenge to filmmakers, forcing them to think outside the box. Fortunately, our submitters rose to the challenge and created some excellent short films. Here are the films we screened on the night, including links to those that are currently online.
1. The Craic – submitted by  Kenny Gaughan

Our first film was a comedy sketch about a group of obnoxious lads on a pub crawl made by our very own Kenny Gaughan.

2. Rendezvous – submitted by Conor Geoghegan

This short was, impressively, entirely improvised! It depicted an odd meet up of two men near a Galway canal.

3. Doped Up – submitted by Daniel Clarke

Our next film  of the night was a comedy sketch submitted by Little Cinema regular Daniel Clarke, and can be watched below!


4.  Window Man – submitted by Matt Burke

Next up was Window Man by Matt Burke, which featured a sinister and absurd repair man. Watch it here!


5. Situation – submitted by Luke Morgan

Taking us up the the break was a comedy by Luke Morgan which might make you think twice about using bad grammar…

6. Lullaby – submitted by Matthew Blayney

After the break was a very creepy horror film called Lullaby, centered on a couple listening in to a baby monitor!

7. Still The Government – submitted by  Nicholas Fitzgerald

Next up was a very funny political comedy, with a great "The Thick Of It" vibe!

8. All My Friends – submitted by Jonathan Folan

This clever short depicted a woman feeling lonely at a very odd house party.

9. Stirring The Pot – submitted by John Valters Paintner

This hilarious short comedy was adapted BY John Valters Paintner from a play originally performed at The Theatre Room, and can be viewed right here!

10. Substance – submitted by Oisin Robbins

Our last film of the night combined film with live performance in a very unique way, with actor Luke Morgan actually performing live in the room alongside the film!

So ended another great collaboration with the Galway Theatre Festival. We're looking forward to working with them again next year!
Liam