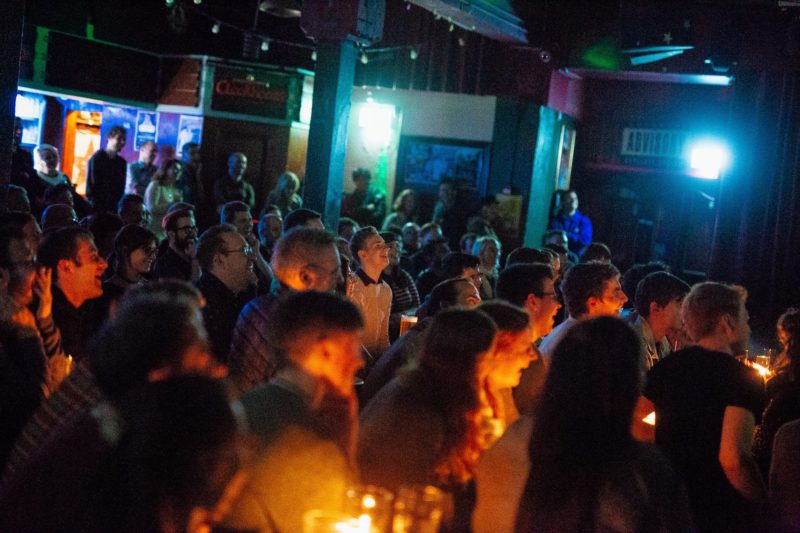 Hello again, welcome back to our monthly Little Cinema recap! Its great to be back after our month off in July, we hope you all had a great summer! We couldn't have asked for a better return to out monthly screenings, with an incredible line up of top quality short films and an absolutely fantastic audience. Huge thanks to everyone who made it out, you really are the best! If you'd like a little reminder if what we screened, here's our line up again;
Portershed : 90,000 Coffees later, submitted by Chris Tierney

A short documentary to celebrate Portershed's second birthday.

Timothy's Adventure, submitted by Barra Convery

Timothy embarks on a not very tumultuous journey to the Aran Islands.

Nobody Gets What They Want Anymore, submitted by Eoghan McGinley

One mans search for solitude is interrupted by another mans search for solid food

The Waiting is Over?, submitted by Dermott Petty & Joan O'Hanrahan

Vladimir and Estragon have been waiting for the elusive Godet. Could this be him? Is

there a God? Will Estragon get his boots on?

Also, we're taking this chance to share Dermot Petty's 'The Good the Bad & the Sean Nós Dancer', which was previously unavailable for viewing online – enjoy!

BOKOTONO – You're Looking a Little Rough Around the Edges, submitted by Fintan Geraghty

A Music Video for Bokotono's Debut single "You're Looking a Little Rough Around the Edges". Starring Aaron Sothgate, Edited by Shakeela Singh and Produced by Adrian Conway.

JOIN -The Live Experience submitted by Join

The world's first fusion of dance music and jokes
BliNK, submitted by Conor Hogan & Ciara Moloney

We hear the thoughts of two individuals as they engage in a staring contest.


Wanna go Camping? , submitted by Sam Cahoon

Frank & Rand go camping.


"She's Got A Master's Degree" by Dead Horse Jive, Submitted by Conor Quinlan

A music video for Dead Horse Jive's "She's Got A Masters Degree".


A Funny Thing Happened, Submitted by Kenny Gaughan

A selection of  new  sketches from our very own Kenny Gaughan.


Ezekiel, submitted by Mairead Dewar and Patrick Crean

A black comedy in which two criminals bite off more than they can chew


Huge thank you again to everyone who submitted a film for the screening, and to each and every member of the audience for making it such a great atmosphere. We'll be back again in September, and we're also very much looking forward to our Halloween screening in October – this screening fills up early every year, so if you'd like to screen your film, get in contact with us soon!
That's all for now!
Thanks,
Kenny, Julia & Liam