It's hard to believe how fast the year is going… Christmas feels like it could have been last week, but here we are recapping our second screening of the year! Little Cinema February was one of those beautiful screenings that had lots of different styles and genres on screen and a truly great crowd too! Let's look back at the great short films screened last Wednesday. Where possible, the films themselves are also available to rewatch.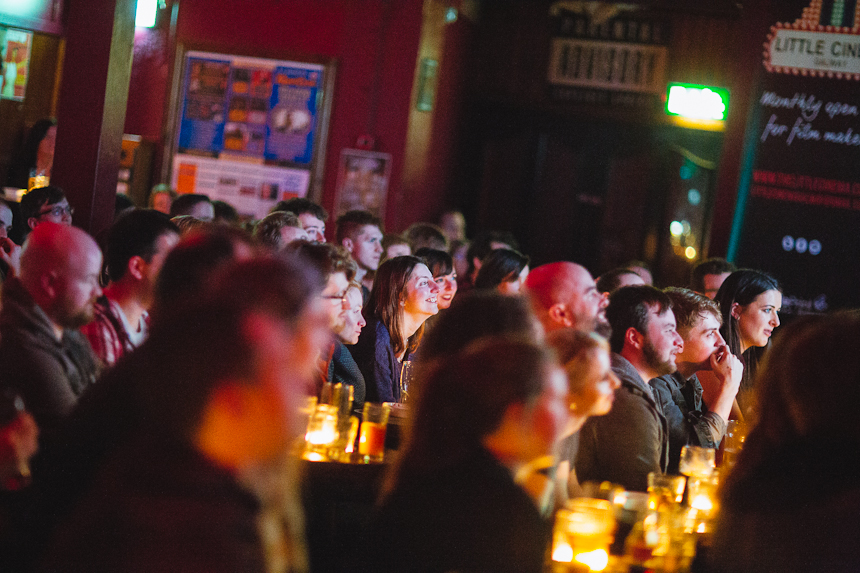 1.
Our first film of the night was "Cosan na Smaointe" submitted to us by Cliodhna Nic Dhonnacha. This moving Irish-language documentary told the story of a woman who went to school in a Sisters of Mercy convent before going on to become a teacher herself.
2.
Our second film of the evening was "Binge" submitted by Stephen Staunton. "Binge" is a comedy short about a man trying to keep up to date with a popular fantasy TV show, which eventually takes over his entire life! It also deserves special mention for great VFX, showing that anything is possible, even on small budgets!
3.
Film number three was "Regicide" submitted by Cian Boland. This documentary was a behind the scenes look at the making of a student film.
4.
Next up was another great animation from regular submitter Diarmaid Hanley. His film "Lords" was a bizarre conversation between two men discussing the existence of the soul. Typically hilarious stuff from Diarmaid!
5.
Taking us up to the break was a film called "Shir Madness"submitted by Emily Murray, Aising Ni Chulain and Marie Lecoq. This documentary gave a fascinating insight into the world of burlesque, with interviews from a variety of performers.
6.
After a short break, we were back with a music video from Colm Dunne. Created for the song "When Mark Met Tom" by local artist Fia Rua, this video, shot on a sunny day in Salthill, had some puppets act out the narrative of the songs lyrics. Puppets by "Yourmans Puppets"
7.
Next up was "Stare" by Ana Levisky. This captivating documentary explores reactions to works of art in various settings and the power that art can have wherever it is found. Click here to watch "Stare"
8.
Our penultimate film of the night was submitted by Paul O'Mahony, long time Little Cinema audience member and first time submitter! Paul's film "Paul Does Make-Up" was a very informative video with some great tips on how to make the most of your make-up.
9.
Closing out the night was another documentary, submitted by Graham Bollard called "Dirty Laundry." This amazing film documented the filmmaker discussing his father, whom he never met, with his mother, aunt and grandmother. "Dirty Laundry" was a perfect finale to a great night of short films.
So ended another night at Little Cinema. To those who submitted and those who came along to be part of the night, huge thanks! Be sure to share these films with your friends, and we'll see you in March!
Written by Liam Doherty