Last night saw the second monthly screening at our new home in Roisin Dubh!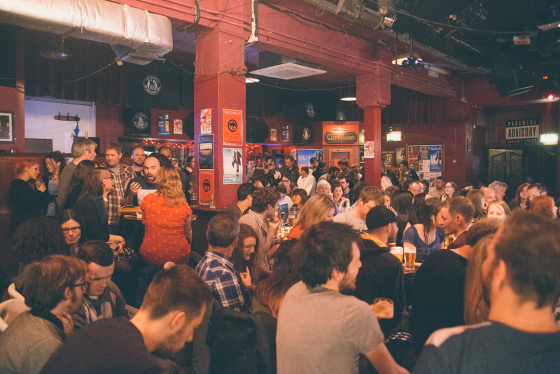 (Scroll to the bottom for more photos)
It was a completely SOLD OUT night with an incredible atmosphere and some craicing films which you can check out here:
1. Ever stopped to wonder why people actually kick the wall in Blackrock in Galway?
Our first short of last night's screening, submitted to us by Michelle McDonagh answers those questions in a very endearing way!

'Kicking the Wall' unfortunately isn't available for online viewing.
2. Second up, we had a film by Kevin McGuire, titled 'Shelter', which was a cool piece about how chance encounters can influence our lives. 

The short isn't uploaded online either, but thanks to Kevin for sharing it with us and submitting!
3. Next up we had a brilliant music video for the Dublin band Friends Of Emmet and their tune '13th Floor'.

It was submitted and presented by director Nigel O'Brien.

www.youtube.com/watch?v=bpUXN3KFj6c
4. Funny and delightfully weird… We're down with that!

The last film before the break was a compilation of sketches submitted to us by 'The Soft Fists' aka John Burke and Conor Hooper called 'Impotence Reigns'. A Little Cinema premiere! 

http://youtu.be/-Y76k8-NF1k 
5. Everyone knows that the streets of Galway are filled with some amazing talent!

The next video on yesterday's bill was a testament to that!

Check out this live cover of the Game of Thrones theme tune performed by The Harp, The Accordion and The Ugly, a group of Galway buskers.
The video has almost 20.000 views after 2 weeks of being live! It was shared by RTÉ Ten, Entertainment.ie & DailyEdge.ie to name a few.
It was submitted to us by Annie Chambers and filmed by Javi Gil.
www.youtube.com/watch?v=W5qwHi8Ytto
6. Our line-up yesterday continued with a documentary commemorating the 100th anniversary of World War I.

It was submitted to us by Tony Walsh, who made a special edit for the Little Cinema audience only!

It was peek into a piece that Tony is currently working on, telling powerful stories of soldiers that fell in battle.
The documentary was filmed in Belgium and presented by Niall De Burca, who mixes sadness with light-heartedness so well in his speeches.
Make sure to check him out on www.storyteller.ie
7. Our second last film was 'Cairde', a short film in Irish, about a 15 year old boy who befriends an old fisherman down at Blackrock and teaches him how to swim.

A very sweet story about overcoming fear and the power of human connection.

Many thanks to Hodei Rubio-Lacey for submitting!

www.vimeo.com/100938566 
8. In our closing film, Dr Stephen J Cadwell has 'distilled years of work, toil and effort' to make a video that encapsulates what it takes to be an 'acteur'.

Warning: This video contains some truly convincing pretentiousness! 

www.youtube.com/watch?v=cCQ-B15cMC8
[print_gllr id=905 display=short]
That's all folks! We'll be back in September with our mini festival! Watch this space!