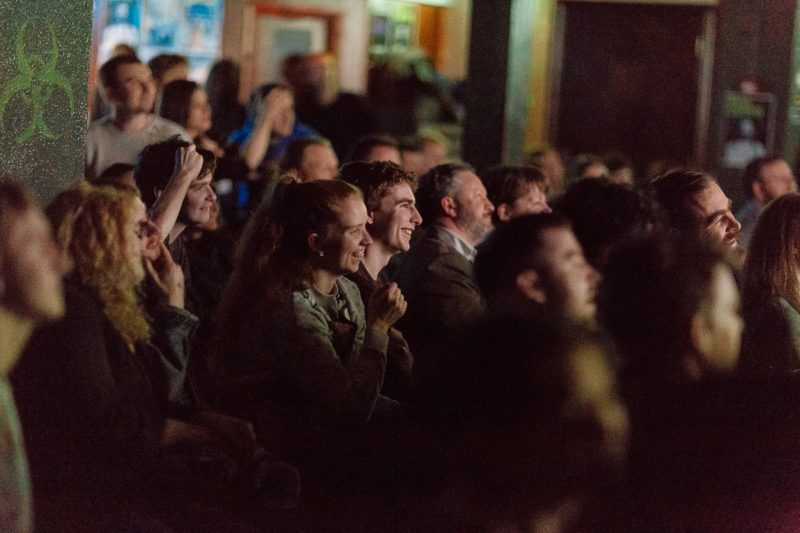 Hello all, and welcome to our recap of another great month at Little Cinema! For March, we put a callout for Irish language films, and were delighted to get some gems, so huge thanks to all who worked hard on these to get them ready for the screening! The whole screening was a delight, and we were delighted to see some new faces on stage introducing their work. As ever, if you missed out or would just like to watch these films again, we've put together a list of films from the screening which are currently available online. So before the long weekend ends, why not settle down and enjoy some incredible shorts with a nice cuppa!
Handy's House, submitted by Philip Christie

A kid's TV presenter finds that he's not cut out for the job.


"What If I Could" – Apollo, submitted by Barra Convery

A silent short filmed turned music video, accompanying the release of Apollo's second single, 'What If

I Could'


Mianach, submitted by Luke Morgan

A man gives his daughter's boyfriend "the talk", but not quite the way you'd imagine.

A White Spring, submitted by Lakshika Serasinhe

A White Spring In Galway!

Struggle For Choice, submitted by Meaghan McKeon Joyce

Fionnula Macliam shares her personal story with having an abortion in the hope to show others that we

need to Repeal the 8th.

Click here to watch

Gra & Eagla, submitted by Caitriona Ni Chadhain & Aine Gallagher

The Irish have a deep 'Grá' for their native language that is hard to explain, but many are afraid to speak

it.

Áine Gallagher questions the love & fear that Irish people feel towards Gaeilge as she develops a

bilingual comedy show.

Dogging, submitted by Gerard McAuliffe

A couple celebrate there anniversary at a fancy restaurant but soon find out the boyfriend has an unexpected sexual fantasy.
Thanks for checking out these films and supporting local talented filmmakers! We'll be back again soon, at the start of May for our annual collaboration with the Galway Theatre Festival – be sure to come along to see some of the creative ways filmmakers create shorts in one take! The last few years have been amazing to see how people rise to the challenge, and this year will be no different! Keep an eye on our social media for more details.
That's all for now!
Thanks,
Kenny, Julia & Liam