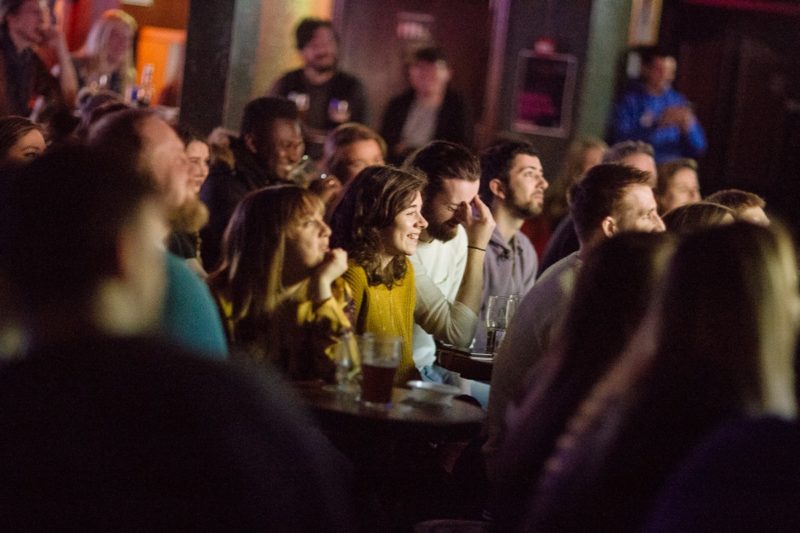 Hello again! Hope you've all enjoyed the magical few days of beautiful snowy weather these last few days, and that you all stayed safe and warm! Huge thanks to all who braved the cold last Wednesday to join us for another fantastic screening – was great to see so many of you there, and our filmmakers were very grateful to see another packed house. If you did miss it, well not to worry, here are the links to the films currently available online. Please share any you liked and help out our local artists!
Modern Mindfulness, submitted by Kenny Gaughan

Modern Mindfulness is a 5 minute meditation demo designed to cause stress and anxiety!

A Penny For Your Thoughts, submitted by Rebecca Stiffe

A documentary exploring the various lives of Ireland's homeless.

This film is not yet available online.

The Great Dune, submitted by Niall Rooney

A lone wanderer traverses a desolate wasteland in search of redemption.

Little Cinema As Gaeilge/GalwayTheatre Festival Promos

This month we're looking for films made in the Irish language, and in May we'll be collaborating once again with Galway Theatre Festival, in which we'll be screening films which must be made in one single take, so get your creative juices flowing! Here's two films from previous years for inspiration.

Remaking classic film scenes in Irish is just an example of what you can do for Little Cinema March, but anything made in Irish is eligible!

Hostage was made entirely in one take, and was one of my favourite Little Cinema productions to be part of, even if I did get killed at the end (sorry for the spoiler).

Friends in Low Places, submitted by Michael Heneghan

A tale of friendship.

This film is not available online.

 Bench, submitted by Jack McKenna

Chris sits on a bench feeling sad for loosing Jack.

This film is not available online.

JayolaFM – Madness [Official Music Video, submitted by Matthew Blayney

"Madness" Produced by Irish/Nigerian Artist/Producer HaszardBlasze.
Performed by Irish/Nigerian Artist JayolaFm.

 Barefoot, submitted by Fabian Oman

Alden is determined to make a success of the antique furniture shop he has inherited, but his sister Claire has other ideas.

 

Time Travellers For Choice Invade Galway, submitted by Colin Fleming

A few suffragettes from 1918, time travel to present day Galway for a day to try and help spread the word about repealing the 8th.
And that's a wrap for February – as mentioned above, we'll be back at the end of March with an Irish language screening, so dust off the foclóir and get to work on those Irish scripts!
Stay warm,
Thanks,
Kenny, Julia & Liam