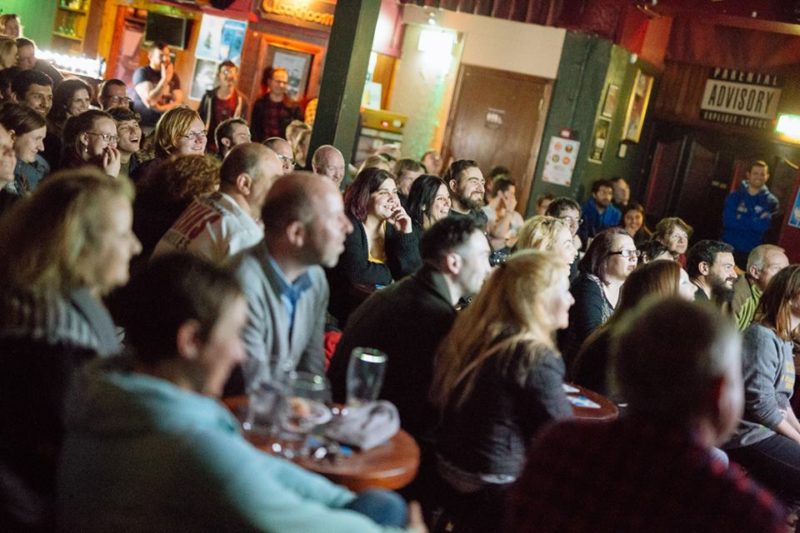 Every year at Little Cinema, we put on a few special screenings aside from our regular programming. Among them, the One Take Film Challenge stands out as perhaps the most interesting. As a collaboration with the amazing Galway Theatre Festival, we challenge filmmakers to work within the same rules as live theatre, as in, their film must be made in just one take, with the option to start over disallowed! Each year, we get some amazing entries, and we're consistently amazed at how people rise to the challenge. This year was no different, and we were lucky to screen a fantastic, varied line-up of short films to a packed house at the Roisin Dubh last week. Here's a reminder of the films we screened.
1. Damn Chuggers, submitted by Kenny Gaughan.
Another hilarious comedy sketch from our very own Kenny, about a mans struggle with a charity collector.
This film is not yet online.
2. Eshans Divilment, Submitted by Daniel Clark
Three lads visit a mysterious fortune-teller in this cracking comedy from Daniel Clark.
This film is not yet online.
3. No One Finds Out, Submitted by John O'Brien
4. One-Take Thing, submitted by David Patrick-Emery
5. We Need To Talk, submitted by John Valters Paintner
Adapted from John Valters Painter play first performed at The Theatre Room, this powerful monologue had a bitter twist in the tale.
This film is not yet online.
6. Questions – From The Rest Of The World To The Irish, submitted by Manolo Marceno and Lakshika Serashine
7. Dispatch, submitted by Matthew Blayney
Thanks to everyone who worked so hard on their film for this months screening! We'll be back in May with another night of great entertainment! Also, make sure to check our previous post for info on the very exciting 48 Hour Film Challenge coming up in  June. We're currently accepting submissions for the challenge, so make sure to get involved soon if you're interested!
Kenny, Julia and Liam.