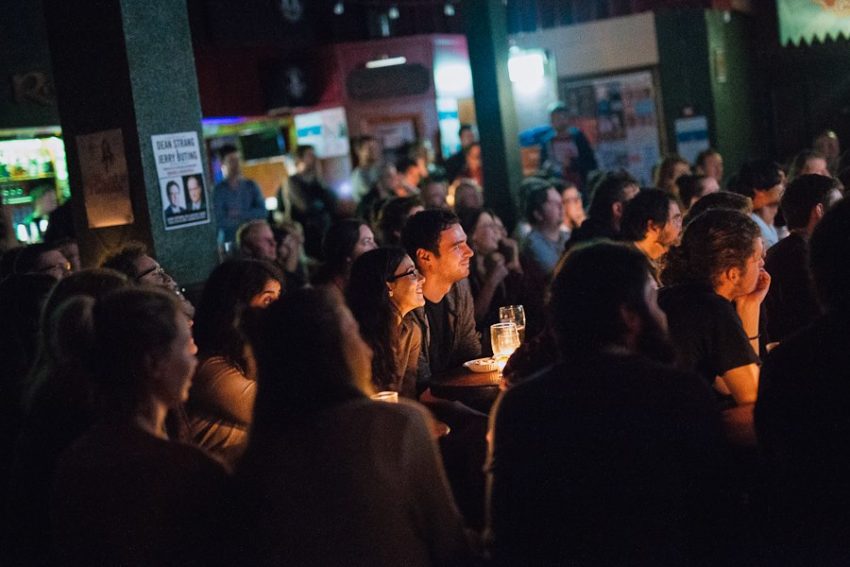 Good evening all, welcome back to our website where once again we will be recapping the shorts screened at the last Little Cinema! First of all, huge thanks to all who submitted, and to those who came along on the night to show their support. Before I continue with the films, I'd just like to remind you all that… Halloween is coming! We LOVE Halloween at Little Cinema. because we get to screen amazing, inventive horror films! Places fill up very fast every year. If you have an idea for a film, then now is the time to get making it and be part of this years line-up! Now, on to this month's movies!
 1. Fire & Brimstone by Driftwood Manor, submitted by Max Webb
A very welcome return from one of our first ever submitters, Max Webb, who made this incredible psychedelic animation as a music video for Driftood Manor. Watch it below.
2. Busk or Bust, submitted by Mike Casey
This fascinating documentary follows Dublin rapper and busker Tommy KD and his various run-ins with the authorities.
3. Tomorrow by Orchid Collective, submitted by Colm Dunne
This excellent live studio recording of the band Orchid Collective performing their song Tomorrow showcases their incredible, harmony driven sound perfectly. This piece was filmed ahead of the bands performance at this years Galway International Art Festival.
4. The Briefcase, submitted by Declan Mungovan
Another film from a returning submitter, this darkly comic short film was written and directed by Declan Mungovan in California.
5. Galway: Be Proud, submitted by Meaghan McKeon Joyce
Another excellent observational documentary from Meaghan McKenon Joyce, this piece showcases the recent Galway Pride Parade.
This film is not yet available online.
6.  I.R.I.S. submitted by Barry Fahy
This hilarious short comedy from Celtic Badger Media featured some great comic performances and, as always from Barry Fahy, looked absolutely gorgeous!
7. Dock Days, submitted by Martin King
A beautifully shot documentary from Martin King, which takes a detailed look at Galway's Docks.
This film is not yet available online.
8. Antecedent, submitted by Joe Davies
This piece, made up entirely of still frames and narration, told a dark and winding tale of time-travel and futuristic war.
9. Time, submitted by Lakshika Serasinhe
Our last film of the night was this amazing documentary charting the work of artist Finbar247 and his incredible installation at University Hospital Galway.
That wrapped up another night at Little Cinema. Once again, thanks to everyone who screened their film , and to those who came along to watch them! We'll see you all for September's screening, keep an eye on our social media for the date!
Thanks for reading,
Liam