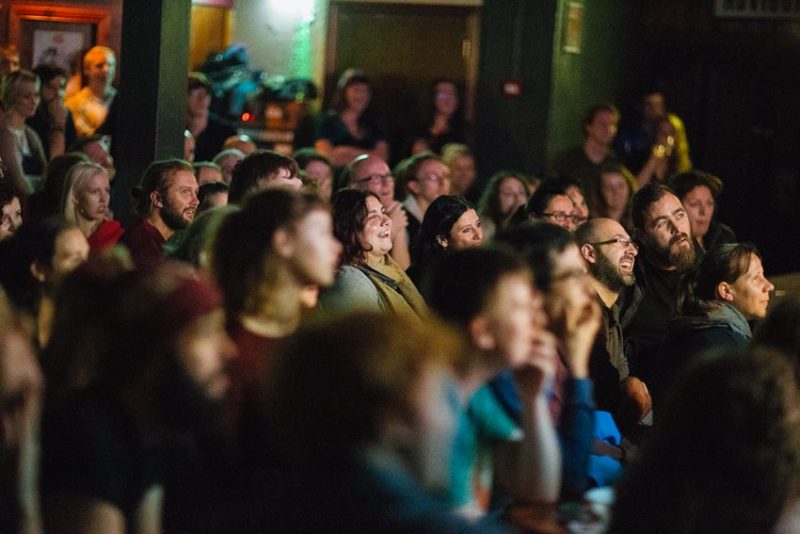 Wow! September's Little Cinema was just one of those special nights; the audience were great, the films fantastic and there was a great energy in the room. A huge thank you goes to the submitters, as always, for providing great entertainment and art, as well as to our amazing audience. As you may be aware, we filled up very early this month, so apologies to those who didn't get in. We hate to turn people away, but unfortunately we were at max capacity! If you missed the films, or if you did get to see them already and want another look, here are links to those currently available online.
1. Carnevil – The New Face of Evil. submitted by Manolo Marceno

Up first was this very creepy short made to promote Carnevil, the West of Ireland's first scare attraction, which will be running in the Connacht Tribune Printing Press from October 8th, if you're feeling brave! (The link below is a slightly different edit from the version screened at Little Cinema.)

2. An Irish Intervention, submitted by Declan Mungovan

This comedy sketch, directed by Kenny Gaughan, shows what happens when one man decides to give up the booze; his friends and family are not pleased! Click the link below to see what happens.
An Irish Intervention

3. Besto Pesto, With Joe Pesto, submitted by Joe Davies

Another hilarious comedy, this time from Joe Davies, about a guy who just loves pesto! Maybe a little too much…

4. Doin' Fine, submitted by Sean O' Maille

This short is an excerpt from an upcoming pilot made by Florence Films. For more infomation, and to view the film, check out their website at the link below.
www.florencefilms.com

5. The Lucky Hair, submitted by Luke Morgan

This madcap comedy sees a waiter forced to think on his feet when a customer finds a hair in their food. This hilarious short has some great performances! Check it out at the link below.
The Lucky Hair

6. The Circus Exchange, submitted by Meaghan McKeon Joyce

First after the break was a great documentary about Galway Community Circus and their part in a European circus exchange. We're huge fans of Galway Community Circus, and this film showed off their hard work perfectly!
This film is not yet online.

7. Each Uisce, submitted by Jamie Hooper

Part of the Glimmermen project, this haunting short takes a look at the Each Uisce, a fascinating and terrifying part of Irish folklore. Watch it at the link below.
Each Uisce

8. How To Be A Woman (Unit 1), submitted by Megan Woods

Another hilarious comedy sketch from Megan Woods, with a parody of those horrific "informational" videos from the 80's… Watch it at the link below!
How To Be A Woman (Unit 1)

9. We Face This Land, submitted by Project Repeal

We are very proud to get the chance to screen this hugely important film made by Project Repeal. It got a huge reception on the night, and we urge you to share it on social media to make sure this message is heard by everyone.


So ended another night at Little Cinema! Don't forget, next month is out Halloween Screening, so please be extra early to ensure you get in! If you have a film to submit, drop us an email and let us know ASAP as spaces are going fast. We can't wait to see your films and costumes, so get working! We'll have a very cool poster to show ye soon, so keep an eye out for that!Thanks for reading,

Liam.