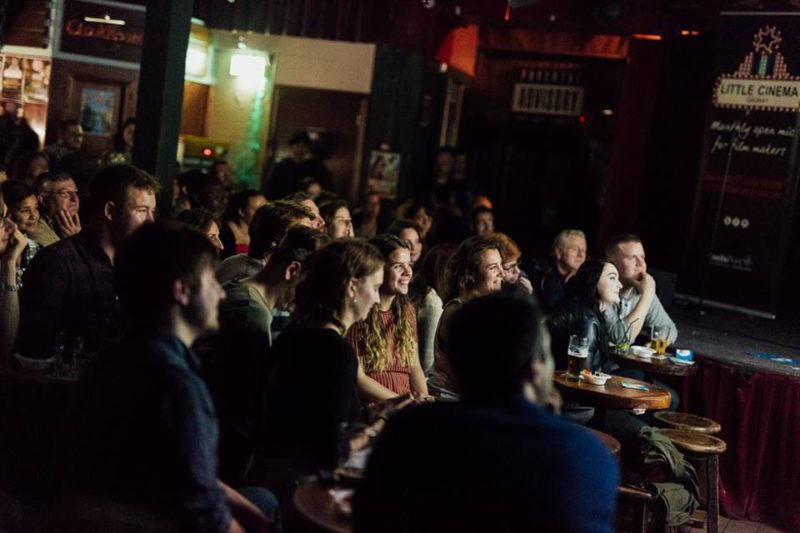 Hello again! After taking a little break at the end of July, we were back again at the Roisin Dubh last Wednesday for another jam-packed screening of fantastic short films. Was great to see a lot of new faces in the crowd as our beautiful community continues to grow, and we hope to see you all again soon! As always, the films screened were a testament to the high standard of film-making that is taking place in Galway and all over Ireland. Seriously folks, there is a beautiful movement happening across our fair nation that you owe it to yourself to be a part of, so get down to our screenings and support your local artists! Here's a list of the films screened in August's Little Cinema.
Five Films, submitted by Brian McCormack


A small collection of 5 short films. The first 4 were conceived, written, filmed, edited and
published within 24 hours. The 5 th film, used this same process as an approach to writing
separate scenes for the film. Each film is a snapshot of mild surrealism in the character's mind.

Milly, submitted by Teresa Lavina

This film is not yet available online

Her Husband, submitted by Leah Ring &Jack Lunt

This film is not yet available online.
A moving insight into the life of a man surviving his beloved wife.

Cat Story, submitted by David Patrick Emery

A story about cats that may be true!

Purgatory Speech, submitted by Meaghan McKeon Joyce

A reflection of life on judgement day, but who really judges you?

DPP – Detective Pat and Paul, submitted by Paul McGuigan &James Ward

Pat and Paul are freewheeling parish priests who moonlight as detectives with the Irish police force An Garda Síochána.

When their crime fighting conflicts with their priestly vocation, they remind themselves of the old testament's notions of justice.

Twitch, submitted by JayolaFm of FreeMusicRep

JayolaFm's latest Hiphop music video 'Twitch' which is shot in Galway.

Where's Dad?, submitted by Gary White

This film is not yet available online
A short documentary highlighting the struggles of single fathers in modern Ireland

Gloryhole, submitted by Wesley Houdyshell

This film is not yet available online
That's a wrap for August! Few announcements while we're here;
We're screening a night of comedy sketches for this years Vodafone Comedy Carnival on the 25th of October – time to break out the funny wigs and fart-noises, as we're looking for your funniest shorts! Contact us ASAP if you'd like to be featured – the funniest film on the night will win a pretty sweet prize! Film-makers have to be able to attend the screening, and films must be no longer than five minutes. More info on our Facebook page, so give us a like!
October is also Halloween – we're gauging interest at the moment to see if people are up for a spooky screening as it falls around the same time as the Comedy Carnival. If the films are there, we'll screen 'em, so be sure to give us a shout and get in early!
That's all for now!
Thanks,
Kenny, Julia & Liam