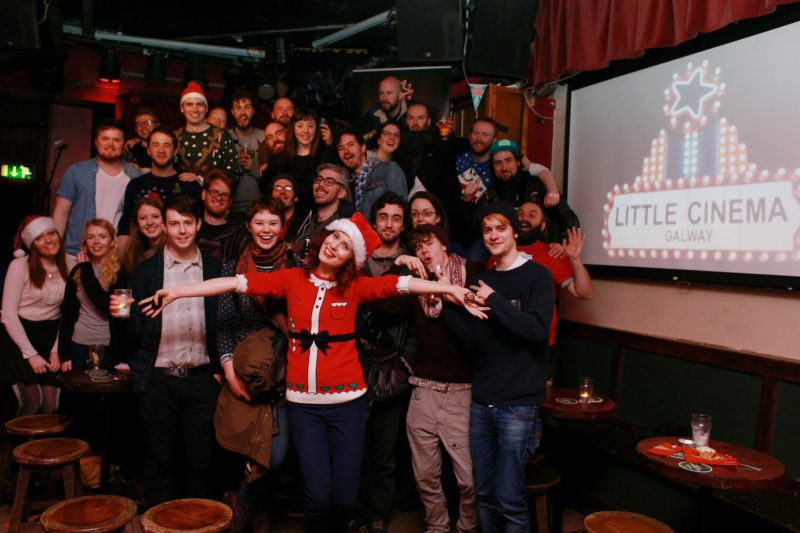 This years Christmas screening was just a beautiful night, with many old friends returning and lots of welcome new faces to join the Little Cinema community.  It was impossible not to feel Christmas cheer on the night, and the festive films screened were a huge part of the fun! As ever, huge thanks go to all those who submitted their films, and to those who joined us to watch and be part of the joyous get-together. If you're feeling the January blues,why not revisit the films screened and recapture a little of the Christmas spirit! Here are the links to those films available.
1. Galway SPCA Not Just For Christmas – Submitted by Michelle Burke and Nigel Gilhooly
2. "Christmas Day" by David Hope – Submitted by Matthew Kelly
3. Taking The House For Homeless –  Submitted by Alan Dunne
4. Excerpts from Christmas on Castletown Road- Submitted by Graham Patterson
5. Home For Christmas – Submitted by Stephen Cadwell
This film is not available online.
6. Psychopathic Santa 2 – Submitted by Harry McCarthy Giles
7. Can't Candle This –  submitted by Kieran O'Brien & Sinead McGlinchey
8. Stumble All The Way – submitted by Conor Hooper, Jamie Hooper & Emily Murray
9. Monopolmas – submitted by Kenny Gaughan
So ended a truly special night! We hope you all had as great a time as we did. Thank you all for your support throughout 2016, and we're really looking forward to seeing you all again in 2017 for another year of quality short film!
Happy New Year,
from Kenny, Julia and Liam.