Thank you to everyone who came along to the Little Cinema last week for the Christmas screening at the Roisin Dubh! We had a fantastic show filled with amazing Christmas shorts!
We showed a mixture of xmas films from  over the years as well as some fresh shorts made for the night!
1 John Burke – Band Aid '15
We kicked off with a submission from John Burke from 2015, where he did a remake of Band Aid1984 where he played most of the characters in it!
2 Ray Grady – Father Christmas
Next up we had the very funny short by Ray Grady called Father Christmas where a lazy man learns a valuable lesson whilst on a mission to make extra Christmas cash!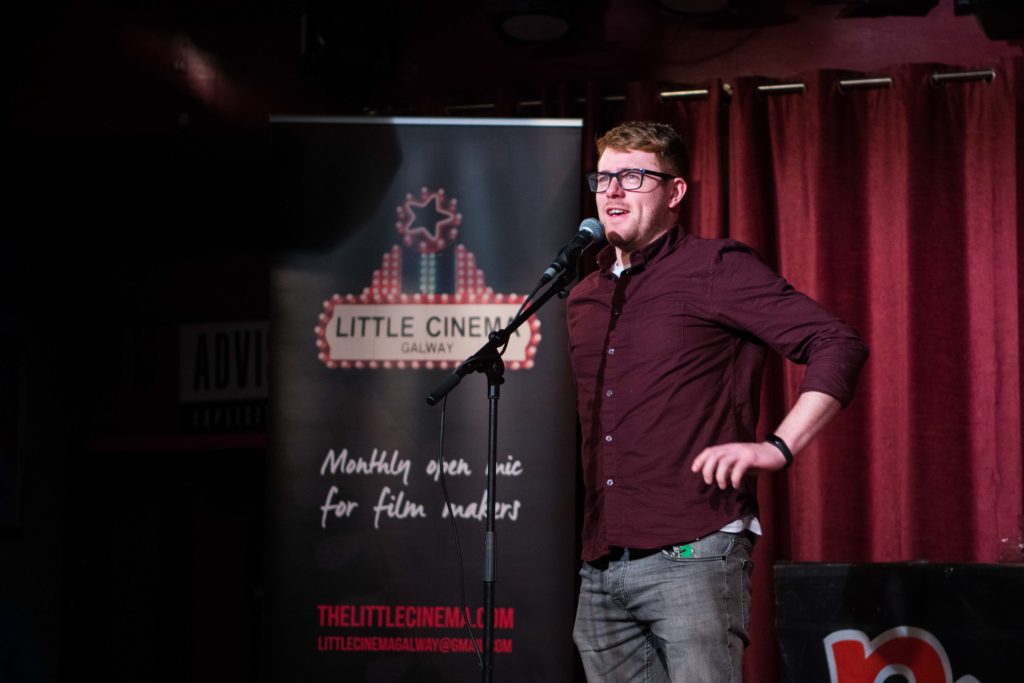 3 Christian Craughwell – Tidings
Our third film was the spooky Christmas film called Tidings made by Little Cinema regular Christian Craughwell.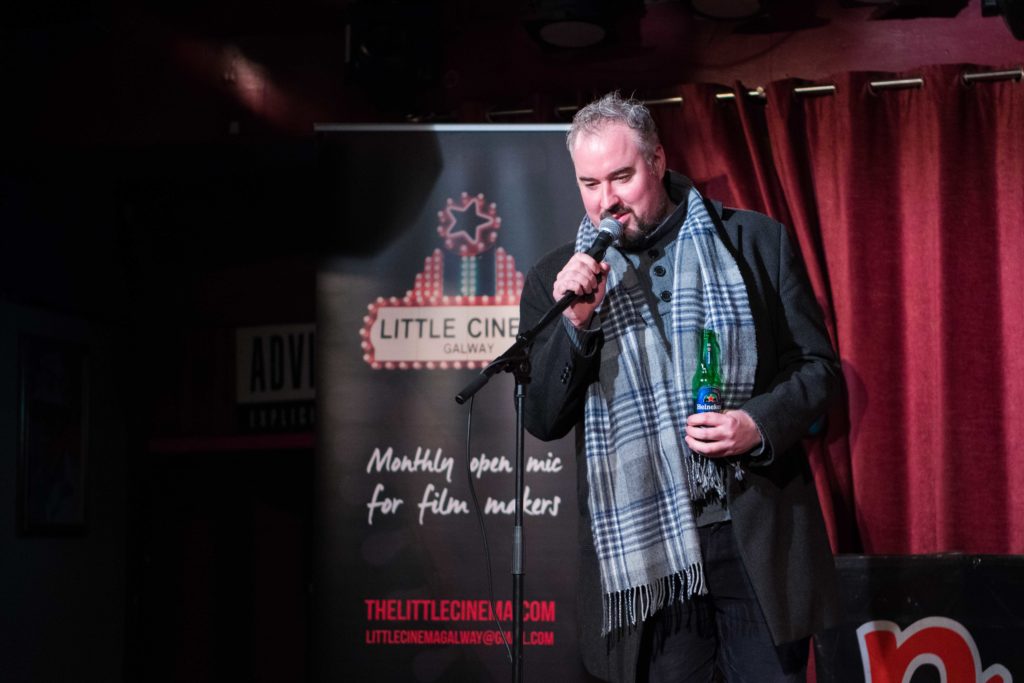 4 Kenny Gaughan – Pragmatic Scrooge
Next up we had Pragmatic Scrooge by Kenny Gaughan, which imagines the scenario where Scrooge was a very quick decision maker!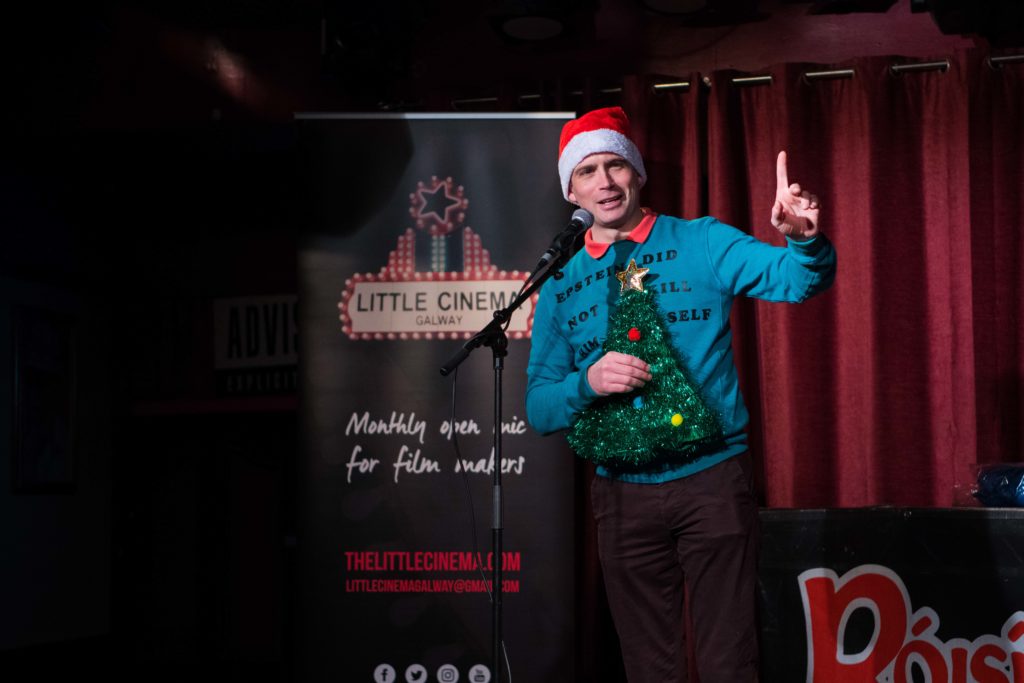 5 Enterainment.ie – The Secret Santas of Ireland
We finished the first half with the lovely documentary  The Secret Santas of Ireland made by Entertainment.ie, which tells the story of how some people got into the role of playing Santa Claus!
6 Paul D'Eath-  Santa Begins
We kicked off the second half with the brilliant Santa Begins, which tells a Christopher Nolan style Santa origins short!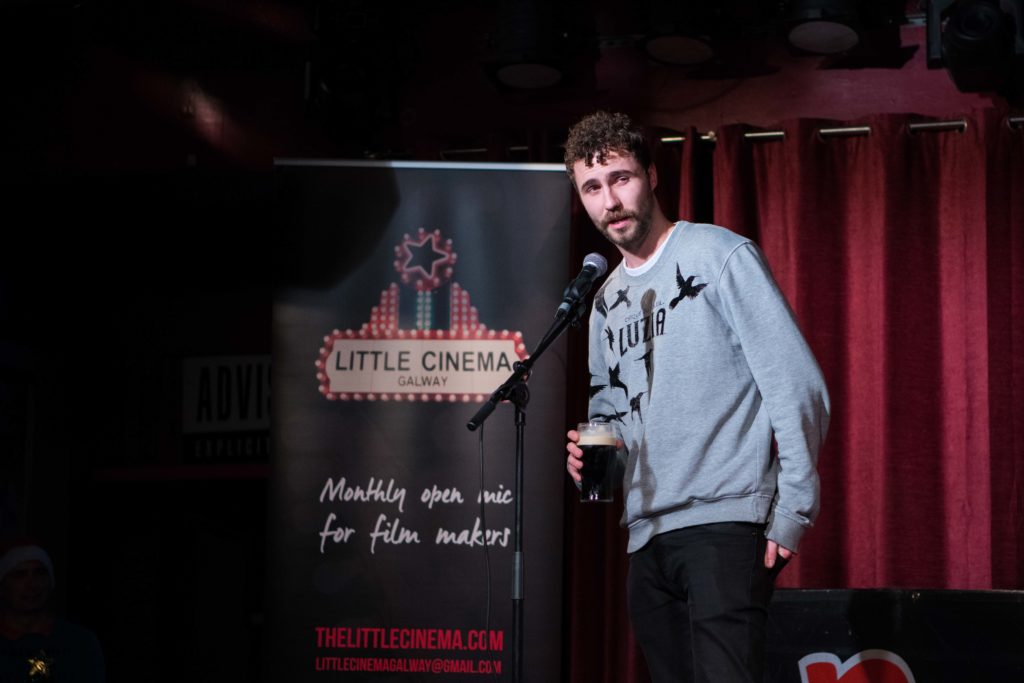 6 Peter McGann – Christmas Party
Next up was the hilarious instastory of a disastrous Christmas Party for a worker who professes his love for a co worker during the Christmas Party!
https://www.facebook.com/pete.mcgann1/videos/10156994828539759/UzpfSTYzODU0NDc1ODozMDYwNjExMjk0OTk0MTQ6NzU6MDoxNTc3ODY1NTk5OjQ3NDE0MzI4Mzc0OTYyMzc2MzU/
7 Galway Actors Workshop – Secret Santa
Our second last short was a comedy sketch made by members of the Galway Actors Workshop who took part in an Acting for Film workshop.
9 – Conor Quinlan – Taking The Plunge
We finished the night with the video made by Ronnie Quinlan to cover the fundraising events by Conor Quinlan, Woody Murphy, Joycey & Shaughs from Dead Horse Jive and Kenny from Little Cinema, where they shaved their legs, taught Joycey to swim and swam at Blackrock on the coldest day of the year! Altogether they raised over €1300 for the charity Cope!
Thanks to everyone who came along on the night and contributed by making films for the night and to all of those who took part in the raffle for Little Cinema hoodies which raised funds towards the Taking the Plunge fund.