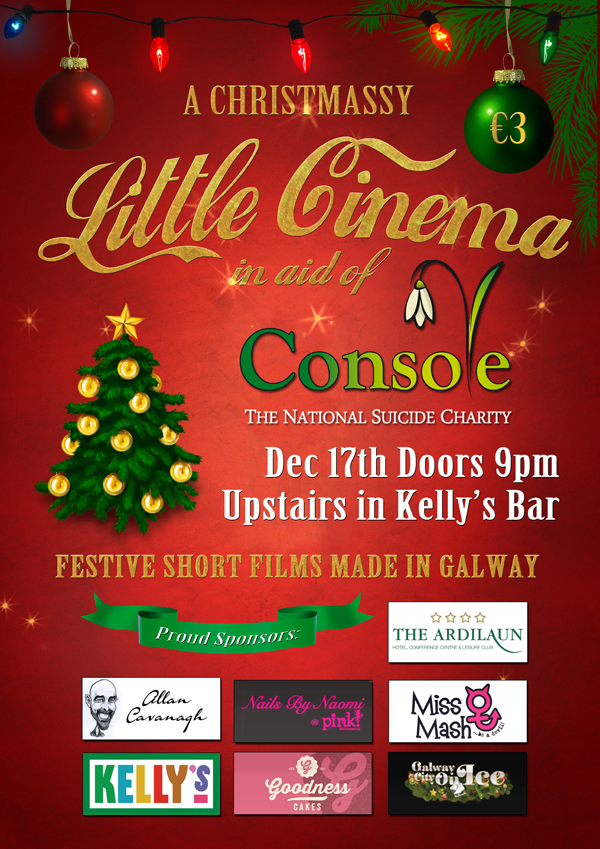 The Little Cinema Christmas Special Screening has sort of become our tradition now, this one was our third! On a Tuesday before Christmas we all get together Upstairs in Kelly's Bar and kick off the festivities with Christmas themed films made specially for the night. We also always pick a charity to help out to spread the joy and hold a special raffle to raise some fund for a worthy cause. This year we chose Console. If you haven't yet heard about Console, they are the national suicide prevention and bereavement assistance charity.  We chose it because we think everyone has been touched by this issue, directly or indirectly and the people behind the charity have already saved many lives!
We also made them this video featuring two powerful stories of two truly inspiring people and highlights the great work that Console does.
Console can be contacted on info@console.ie or their National Helpline number: 1800 201 890 
Thanks to the generosity of our wonderful sponsors and good will of people that attended the screening we have raised a wonderful €564.02, which will be put towards the great work that they do. Once more, HUGE HUGE thanks to everyone for their support and our fantastic sponsors: Allan Cavanagh from Caricatures Ireland, Missmash, Goodness Cakes, Kelly's Galway, Nails by Naomi, IMC Galway, The Ardilaun Hotel, Galway City On Ice & Joe Casey.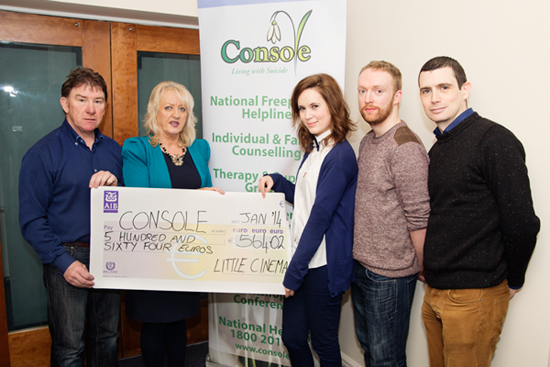 Watch the films screened on the night here:
1. Gary Flaherty: Joe Casey's "St Stephens Day"
2. Nigel O'Brien: Christmas Wonderland, Athenry
3. David Anthony McCarthy: Cookies & Milk
4. Stephen Burns: Galway Christmas Market
5. The Goodo Tompkins (Kenny Gaughan, Liam Doherty and John Burke):
Messed Up Family's Christmas Morning
6. Stephen Cadwell: Top 5 Things to do in Galway for Christmas
7. Wonderfulife Productions: Suicide: Stories of Loss & Hope from Console (Peter & Brian)
8. Andrea Ni Ealaigh: Blaze, A Christmas Special
9.  Jamie and Conor Hooper: The Santa Flaws
10. Peter McGann: Looking For Brendan
11.  Carla Maria Tighe and Aaron Corless: "And Yet So Far"
12. Phillip Greaney: Police Cops – Only You 
13. Ailish Sarah Flaherty: Not Just For Christmas
Ahh, it was a truly wonderful, fuzzy and merry night full of top quality films.
To top it off, here are some photos from the night:
[print_gllr id=369 display=short]