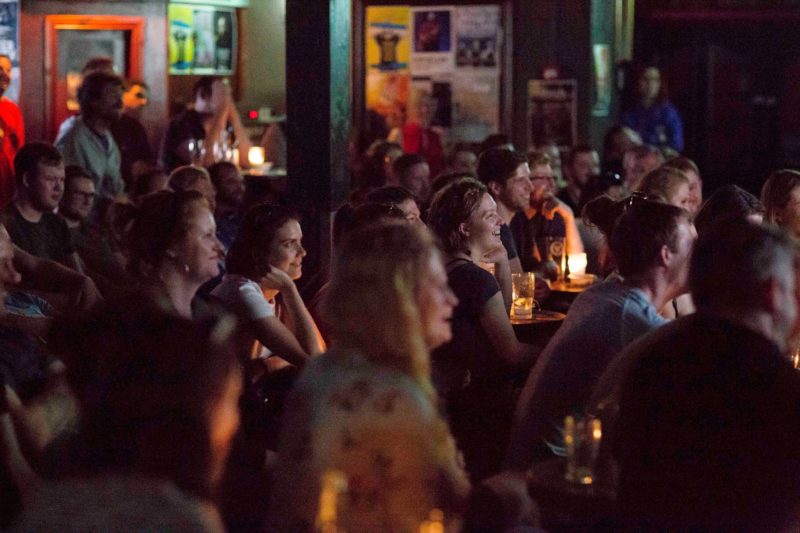 Hello all, and welcome to our recap of another great month at Little Cinema! We hope you've all been enjoying the lovely weather this long weekend. Huge thanks to everyone who made it  to our screening last week, and fair play to Julia who took over hosting duties this month, and absolutely killed it! But thanks most of all to all who submitted their films to be screened – if you missed out, here's your chance to catch up and check out May's line up.
A Millennial Unplugged, submitted by Edel Bane

This film follows a 23 year old girl, Megan, for an entire day as she has given up her

phone for 24 hours. It shows our dependence on technology and how it affects our

mood when it is taken away.

Double Lives, submitted by Peggy-Anne Knight

On his birthday, a young man is haunted with reminders of his birthday last year which he spent at a party with his twin brother. But this year, he is alone

Galway Is Really Nothing, submitted by Tome

One womans tale of how she struggles to deal with a crisis that is crippling not only

her but also thousands across the country.

 The Bowl, submitted by Brian May

An adaptation of Sylvia Plath's poem 'the mirror'. Substituting the mirror for the toilet bowl.

Sceitsi, submitted by Project Spatula

A series of hilarious comedy sketches in the Irish language, made by Project Spatula, a collective of local filmmakers and artists.

I Am Daphne, submitted by Andrew Galea

People from Malta, Italy, Germany, France, Spain, Portugal, Greece, Sweden, Serbia, Poland, Vietnam, Uganda, America, Canada, India, Ireland, Scotland, England – all united to tell the world "I Am Daphne"
Portershed's Second Birthday/For Savita, submitted by Chris Tierney

Almost six years ago we lost another life to the 8th amendment. Let Savita be the last.

Making a 48 Hour Film – Behind The Scenes, submitted by Ray Grady

Following the Last Minute Kings, as they make a film for Galway's first 48 Hour Film Challenge in Summer 2017.
Which leads us nicely to next weekend's second 48 Hour Film Challenge, in association with Galway Film Centre! We're super excited for this – last year was so much fun, and the quality of the films made was exceptional. We're expecting the same high standard this year, and we hope you can all join us for the screening on Sunday night (June 10th), which is completely free – ticket are available now at this link. You're also welcome to join us at the Launch of the challenge, on this Thursday (June 7th) in the Portershed at 7pm.
That's all for now!
Thanks,
Kenny, Julia & Liam