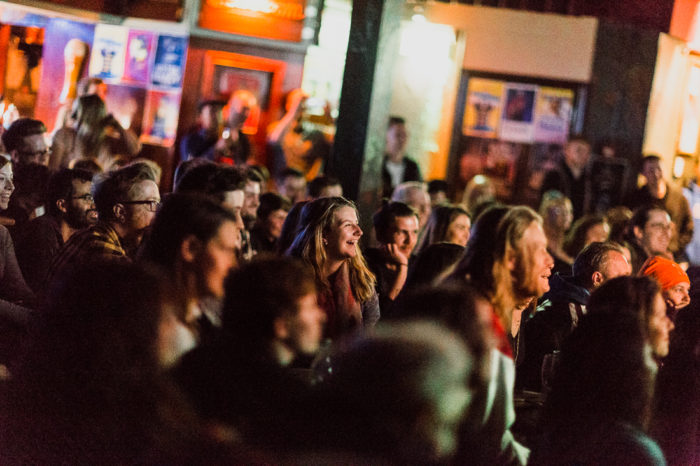 Hello again, welcome back to our monthly recap! This month, we held our annual One Take Challenge in association with the Galway Theatre Festival. This is one of our favourite screenings of the year – we set the challenge to create a five minute short film that has to be shot all in one take, and on the first take. We're hoping to replicate some of the feeling of live theatre, where you can't just start over and you need to roll with the punches. Each year we're amazed by the creativity and ingenuity that filmmakers have brought to this challenge, and this year was no different. Huge congratulations to everyone who got involved, and to those who came along to the screening to support them! If you missed out, or want a second chance to view these incredible films, we've compiled a list here of all those currently available for your viewing pleasure!
1. Ed Sheeran Fans Be Like, submitted by Kenny Gaughan
Salthill has been closed off for the Ed Sheeran concert at Pearse Stadium…but it hasn't stopped his fans trying to get past security!
2. Don Juan in Soho, Act 5 – Apollo, submitted by Jack McKenna
An Irish take on the 2006 British Play filmed in Galway's West End!

3. Oreo, submitted by John O'Brien
Meeting your flatmate for the first time can be an unusal experience.

4. The Shortcut, submitted by Cormac Kelly
A couple walk home but are met with a fate they couldn't have predicted…
This film is not yet online.
5. A Rose, And Go Now submitted by Join
A man in a field and a singular musical and comedic viewing!
6. Rehearsing Shaw, submitted by Justin Wade & Fabien Oman
When you rehearse Shaw, issues, sometimes arise!
This film is not yet online.
7. Mind Your Back, submitted by Manolo Marceno and Lakshika Serasinhe
A woman in her apartment after a hard day's work. But is she really alone?
Fair play again to all of the cast and crew of each film above, you should all be very proud! Looking forward to next years One Take Challenge! We'll be back again on May 30th for another screening, hope to see you all there!
That's all for now!
Thanks,
Kenny, Julia & Liam